Gynecologic Tumor
Immunology
PD Dr. Holger Bronger
The immune system is an inherently effective weapon in the fight against cancer. However, tumors develop various ways to help them effectively evade such immune intervention. The clarification of these so-called immune escape mechanisms has led to the development of completely novel immunotherapies over the last two decades. However, a basic prerequisite for the success of all these therapies is that the immune effector cells find their way into the tumor in the first place. Our research group is investigating how the infiltration of immune cells into solid tumors is controlled and how this can be used to improve immunotherapies, particularly in gynecological cancers. The systems we study play a central role in almost all drug classes currently used in gynecological oncology, especially PARP and immune checkpoint inhibitors.
Dr. rer. nat. Tobias Dreyer, Ph.D. (Postdoc)
Dorine Hamann (MD student)
Katharina Käfinger (MD student)
Giulia Magno (MD student)
Janna Nikonov (MD student)
Sina Nokodian (MD student)
Dr. med. Maximilian Riedel, M.D. (Physician)
Dr. med. Lukas Rief, M.D. (Physician)
Christoph Stange, M.Sc. (PhD student)

Isabel Vogel (MD student)
Regulation of immune infiltration in breast and ovarian cancer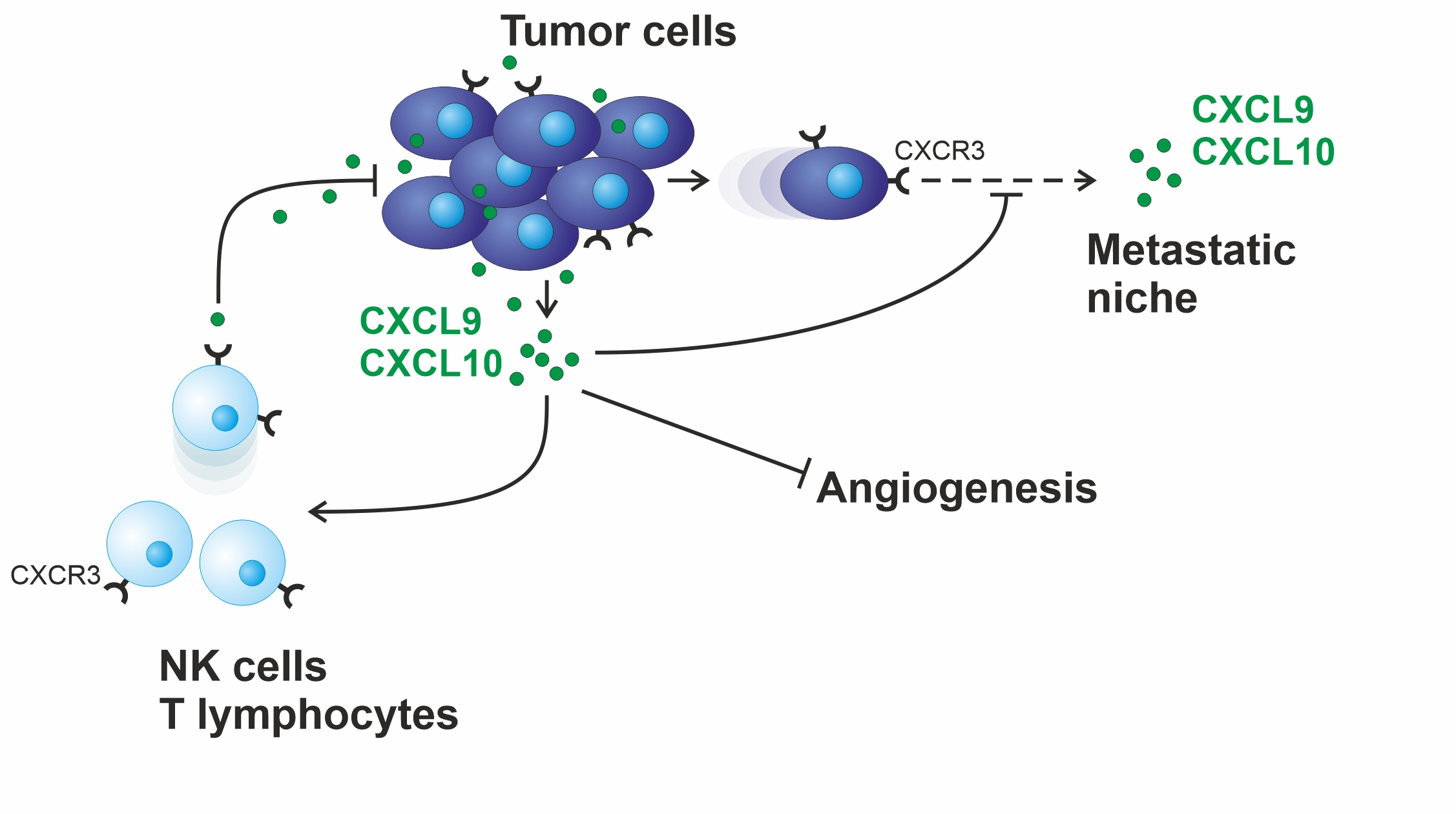 T lymphocytes and natural killer cells (NK cells) are able to fight tumor growth. They are also essential for the effect of numerous modern therapies, such as immune checkpoint inhibition, PARP inhibition or the therapy with monoclonal antibodies. The chemokines CXCL9 and CXCL10, both activating the CXCR3 receptor on the surface of these immune cells, are responsible for their chemotactic recruitment into solid tumors. Beginning with the initial description of these proteins as robust, independent prognostic markers in ovarian cancer, we are currently investigating their function in syngeneic mouse models. Our main focus is to determine whether these chemokines are indeed capable of improving the above therapies. Moreover, the proteolytic chemokine degradation we have already demonstrated may represent a novel resistance mechanism to the above therapies.
Mechanisms of peritoneal metastasis in ovarian cancer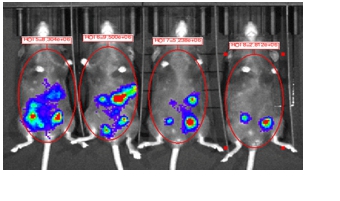 Metastasis of tumor cells within the abdominal cavity represents the crucial clinical problem in ovarian cancer. However, the underlying mechanisms are poorly understood, and thus no targeted therapeutic strategies exist to contain such tumor outgrowth.
In our research group, we are currently investigating how ovarian cancer cells can break out of the primary tumor and spread within the abdominal cavity. We have already shown that the CXCR3 receptor mediates the migration of tumor cells towards the intraperitoneal milieu. By using a specific anti-CXCR3 antibody, this migratory movement could also be completely abrogated in patient samples. In vitro methods to elucidate cell biological mechanisms and syngeneic mouse models are used to address these questions.
Improvement of anti-HER2 therapy through membrane-bound chemokines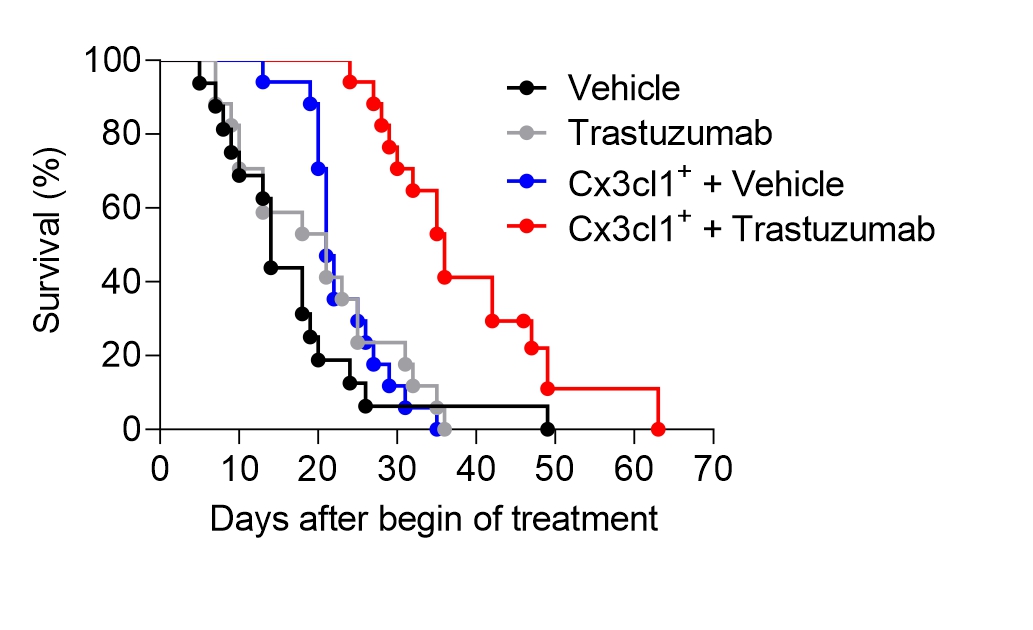 Antibodies against the HER2 receptor have revolutionized the therapy of HER2-strongly overexpressing tumors. However, there is a large number of tumors that does not benefit at all from such therapy, even though they express the HER2 receptor, albeit somewhat weaker. The therapeutic anti-HER2 antibody trastuzumab works in part by marking tumor cells for attack by natural killer cells, a process known as antibody-dependent cellular cytotoxicity (ADCC). We recently demonstrated that the chemokine CX3CL1 is not only capable of attracting natural killer cells to the tumor, but also, as a membrane-bound protein, enhances NK cell binding to and lysis of tumor cells. This enabled us to successfully overcome trastuzumab resistance in HER2 low expressing tumors in preclinical mouse models. The goal of our current research is to find pharmacological ways to induce this chemokine in HER2 low expressing tumors and thereby enable effective anti-HER2 therapy for these tumors as well.
Deutsche Forschungsgemeinschaft (DFG)

Wilhelm Sander-Stiftung

Walter Schulz-Stiftung

Else Kröner-Fresenius-Stiftung